Description
The 'New Voice Tarot' consists in 78 exquisite cards in a shiny holographic box with a magnetized flip-side opening(images presented here are just a rendering and so not accurate) along with a fully coloured book explaining the meanings of each card, basic spreads and precious info about Tarot reading. Cards have a silky matt-finish, shiny holographic edging and measure 89 x 146mm. Limited edition of 1,000 numbered pieces. I'm going to self-publish, therefore I need to raise at least 10,000 Euros to cover all costs for production, shipping and taxes.

Introducing myself
My name is Rosario, an Italian artist and teacher specializing in Sculpture and Drawing. For a decade, I have been drawn to tarot and have created my first deck, the New Choice Tarot de Marseille, which has been highly acclaimed by the tarot community and published in two editions. My newest project is the New Voice Tarot, inspired by the renowned Rider-Waite-Smith deck.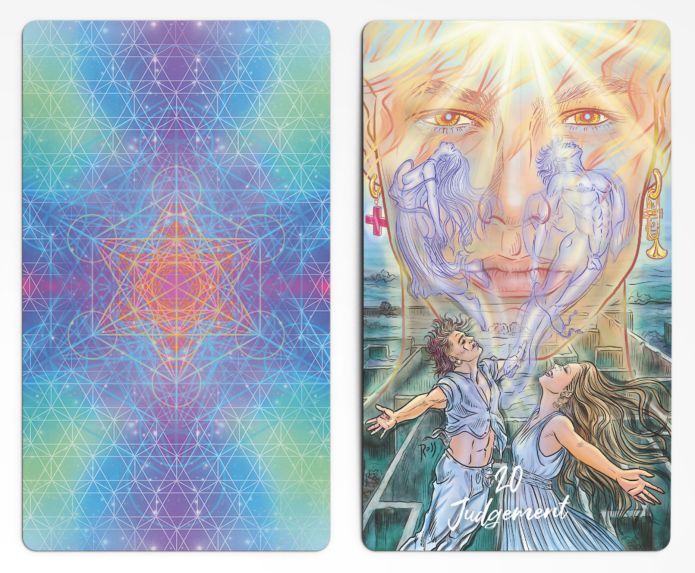 The project
For me, creating tarot card decks is a labor of love. It took me over four years to make this deck come true. I have dedicated countless hours to the task, often working day and night to bring this project to life. I have studied esoterism, symbology, and numerology from numerous books – including the 'Bible of Tarot': Seventy-eight degrees of wisdom by the great Rachel Pollack – immersing myself in the knowledge, history, and mystery of tarot. Through all this research and studying of Tarot plus creating my own decks, it has given me a greater insight into the meanings of each card. I designed the images with precision and care to ensure that each card accurately keeps its authentic meaning.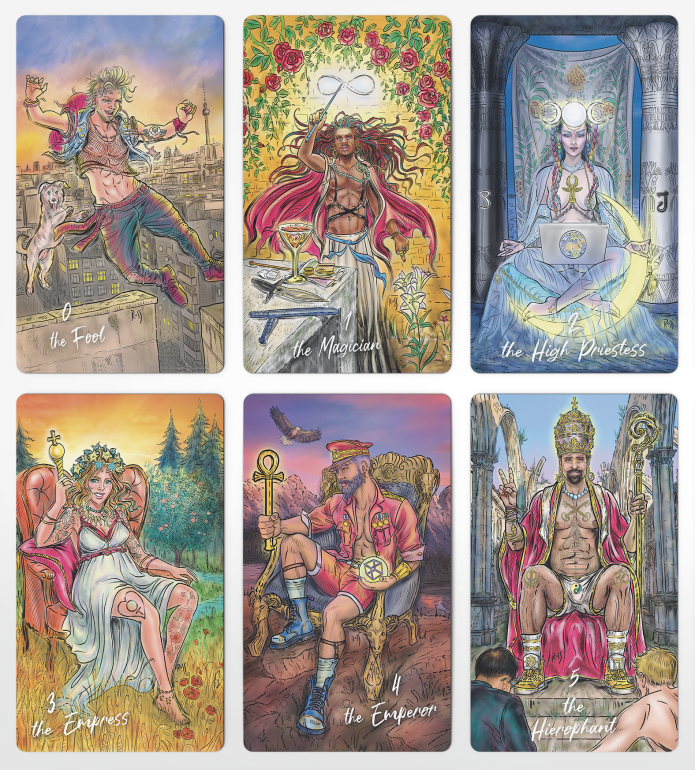 What makes this deck unique
The New Voice Tarot is a modern, inclusive, queer-friendly reinterpretation of traditional tarot cards with fashion and entertainment-inspired figures reflecting various identities, genders, abilities and ethnicities. The illustrations are richly coloured and detailed, with a deep search for the esoteric meanings hidden behind each card.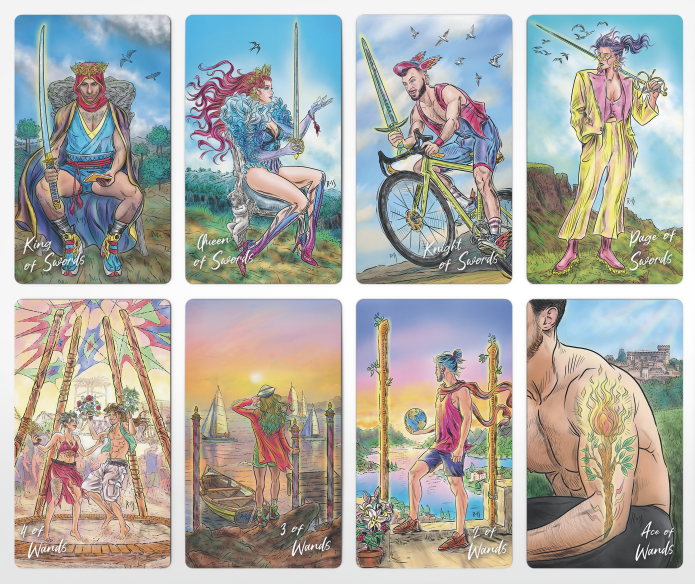 An inclusive deck
My goal was to create a deck that would be more reflective of our contemporary world, with characters that are happier and more positive-minded, and sexually liberated, to represent the LGBTQ+ community and their increasing freedom to express themselves. I wanted to create a deck that was different from the traditional Rider Waite deck, which I personally found to be a bit somber, and I believe that the deck I have created successfully reflects my vision.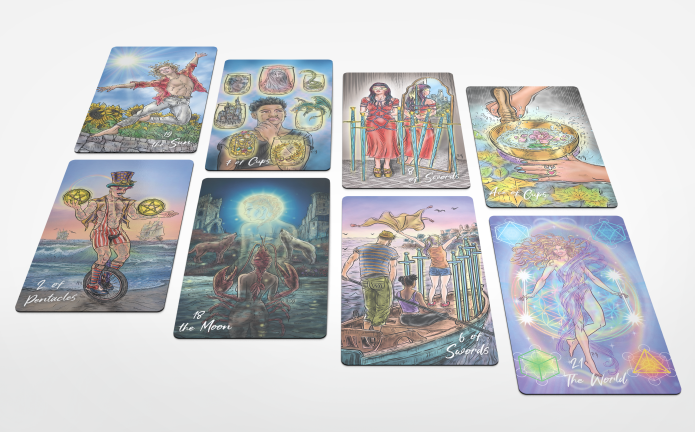 Real locations 
I wanted to take my tarot deck project to the next level by incorporating real locations and cities. This helps create a tangible connection with the real world, as iconic skylines like New York City and Florence can transport people to a place of familiarity and nostalgia. This bridge between the tarot and the world we live in allows for a richer, more meaningful experience for the reader.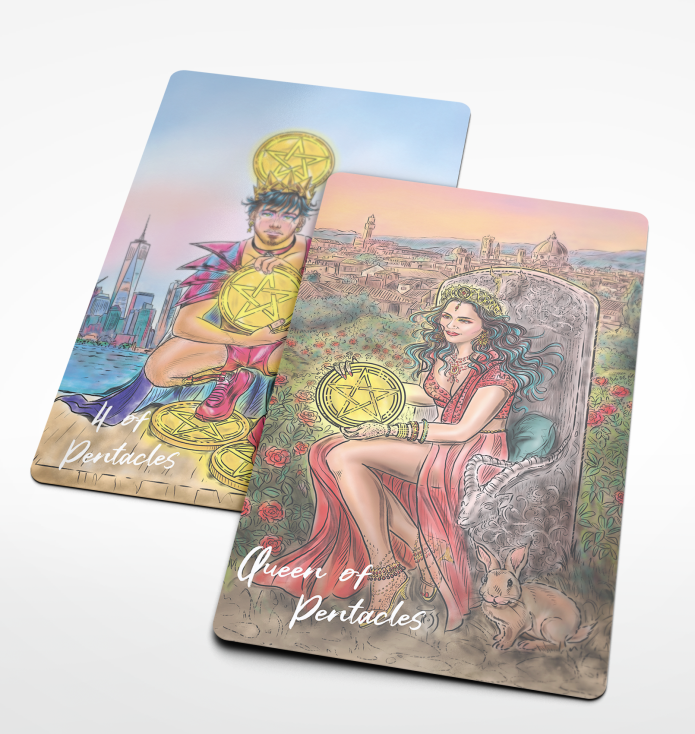 Depicting real people
During the making, in order to make the cards more interesting, I used portraits of some celebrities and even portraits of my friends. By using images of people I admire, I was able to create a more personalized and meaningful set of tarot cards. The deck resulted in being more reflective of the diverse and intricate human experience. This can also be a great way to honor and celebrate the people in my life and create a tarot deck that is truly unique.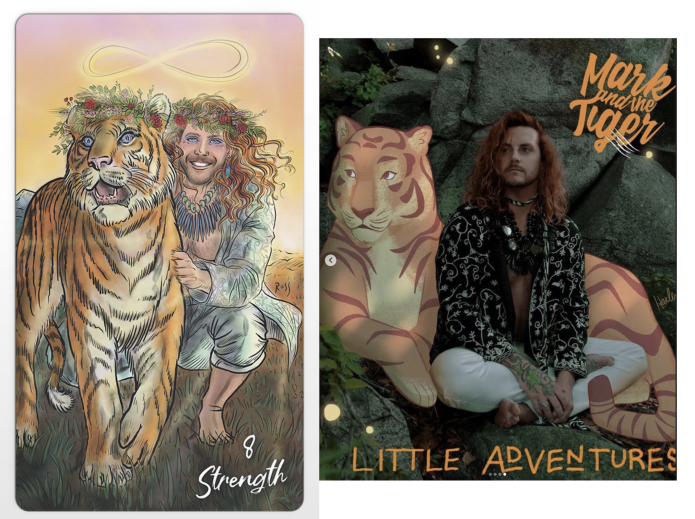 This project has been an incredible journey, full of both joys and struggles, but I am proud of the final product and the work that I have put into it.