Description
Classical Middle Age flair with modern symbolism
It has taken about two years to complete this new tarot deck and it's been a labor of love. I've studied some of the classic Tarot de Marseille decks in order to make my deck faithful and respectful of their most important symbols, colors and the details contained within the Marseille tradition. However, in order for these cards to fit into our contemporary world I've made adjustments, with regards to the style of the cards and their meanings.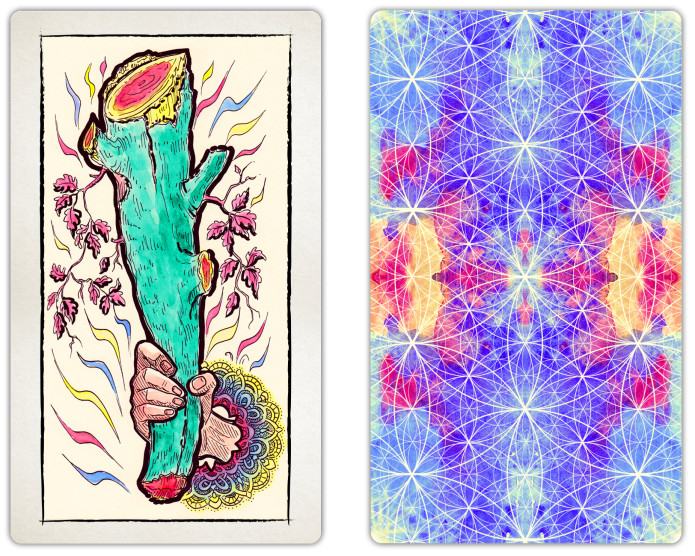 As an example, 'Le Mat' or 'The Fool' is represented in a refreshing and original way. While it still resembles the classic court jester of the ancient Tarot de Marseille, the version in the New Choice Tarot's has been converted to a punk character. Given that the main significance of this Arcana is "energy without a clear direction, free from rules or from any idea of establishment", I thought that its representation as a character at the edge of society would be suitable to a more contemporary concept.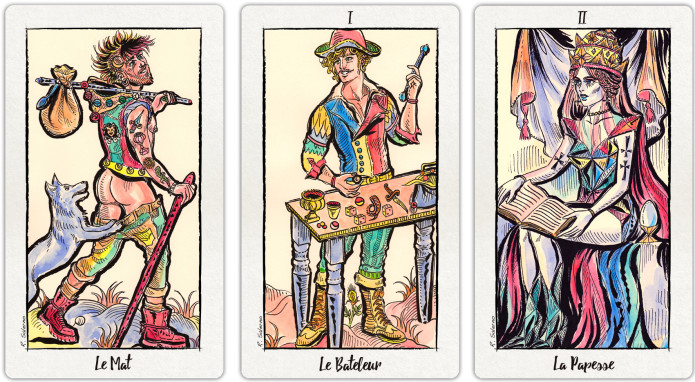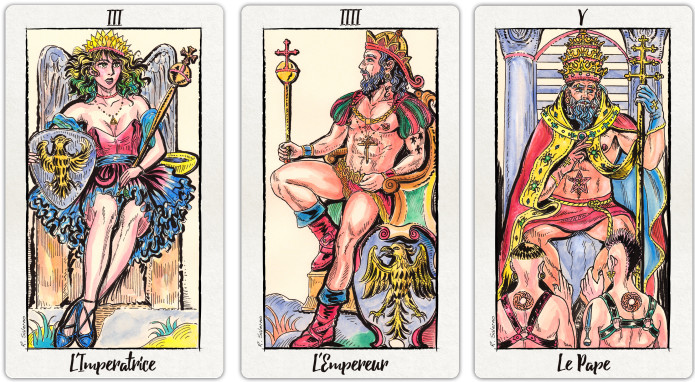 LGBTQ+ Party scene Fashion inspired
Also other characters' styles have been modernized, not only for the Major Arcana, but also for the Court Cards: the classical medieval style of the Tarot de Marseille has been infused with an avant-garde style.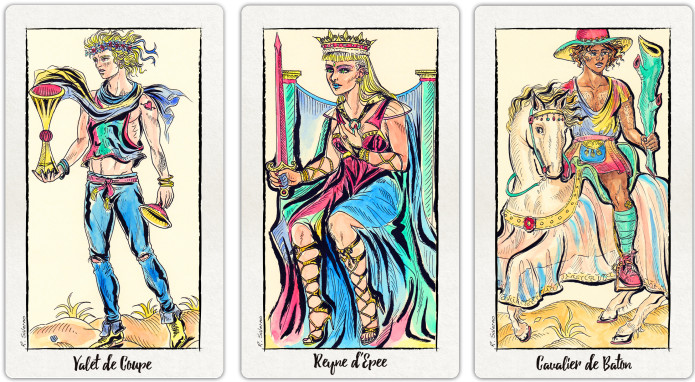 This style of outfit has been inspired by the world of Fashion and certain Berliner places: for example, the underground clubbing scene and, in particular, the queer themed parties – an environment where not only music lovers, but also lots of artists of every genre, meet and celebrate the joy of life, wearing their favorite looks.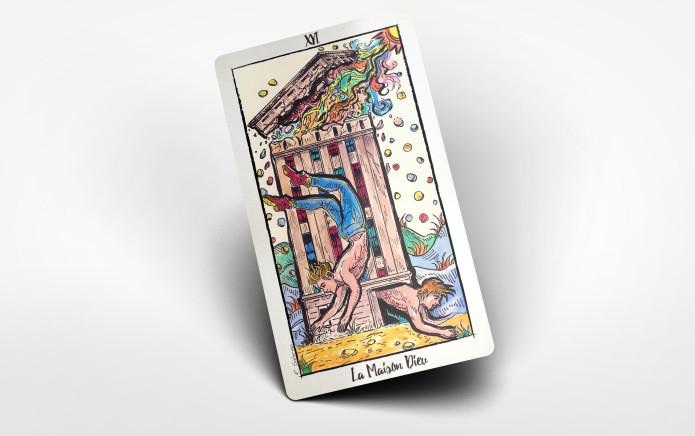 The 'House God', aka 'The Tower', has the resemblance of a specific Berliner Techno club.
Elegant and distinctive Minor Arcana
Another fundamental characteristic of the 'New Choice Tarot' is the symbolism within the Minor Arcana. In fact, for a prompt identification of each card, I've decided to substitute the usual baroque elements with some more specific and 'modern' floral decorations: each species of flower has a classical meaning, which refers to the cards particular meaning. This helps to facilitate the reading interpretation more fully.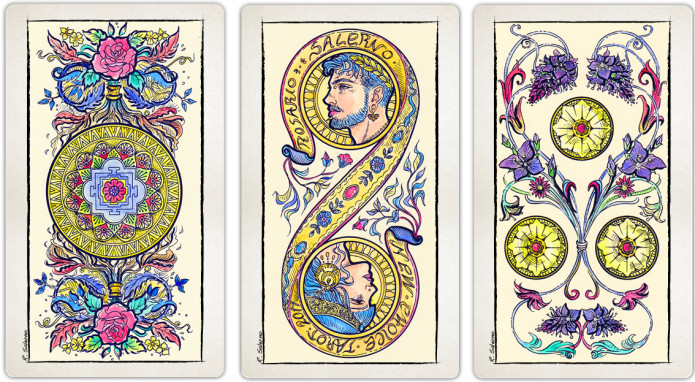 For example: the III of Pentacles represents "a material investment that has produced its first return, or its first loss". The Veronica flowers allegedly wish a good success in a new business. All flowers' meanings are explained in the guide booklet included with the deck.
Some other examples here: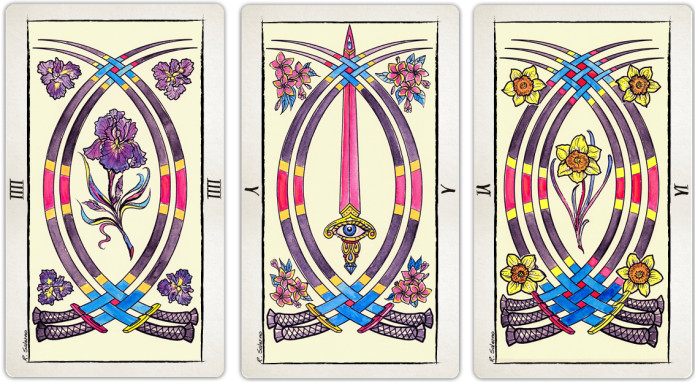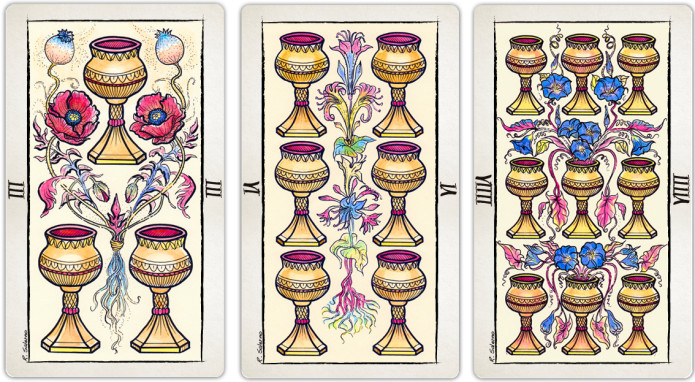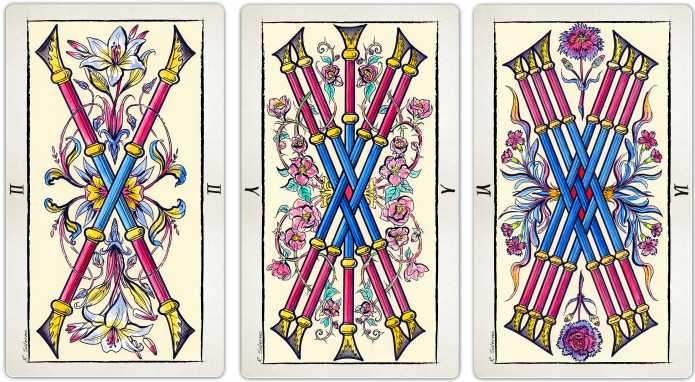 If you love the Tarot de Marseille decks but always wished for them to have a contemporary and fun feel, this is the opportunity to get a totally innovative new version!​